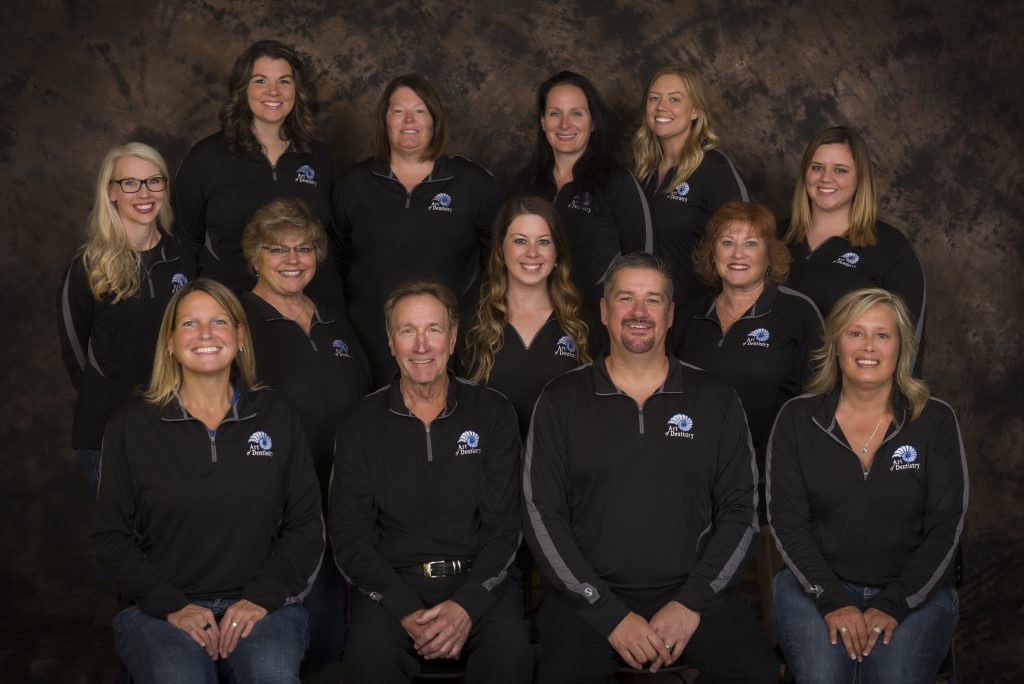 Our dental team at The Art of Dentistry is truly committed to your smile! Each member of our team is knowledgeable and skilled to help you in all aspects of dentistry, including your financial and comfort needs. We work together to ensure you receive the great treatment you and your family deserve from your dentists in Davison, Michigan. We hope to work with you soon!
---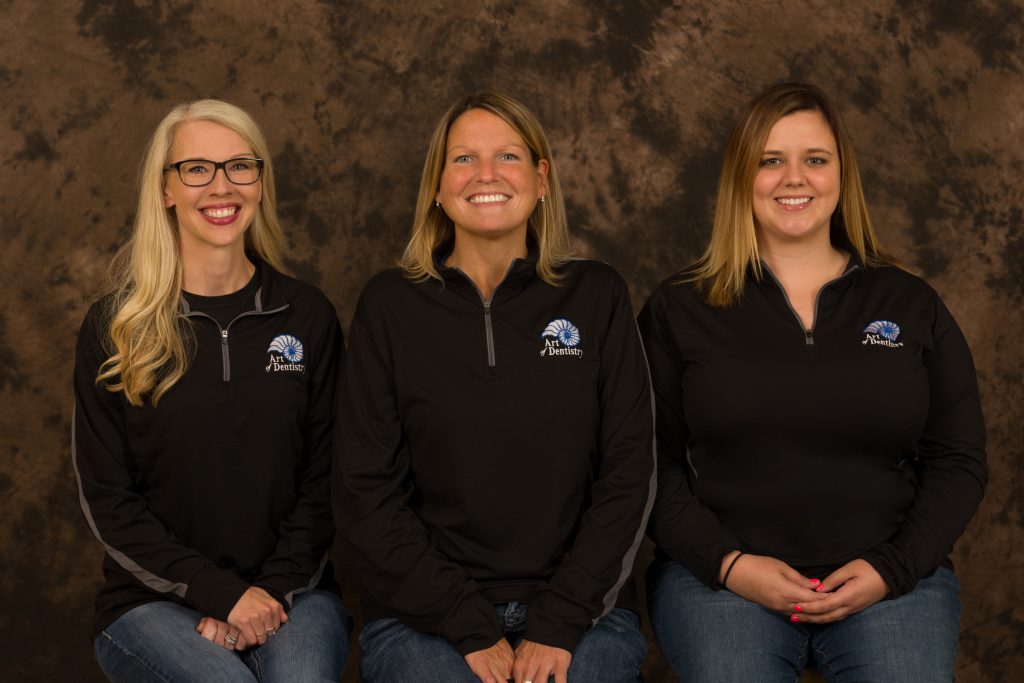 Leigha — Front Desk
Leigha has worked in the dental field since 2004 and has been a part of the Art of Dentistry since 2017.  She prides herself on giving patients an amazing experience from the minute they walk in the door and see her smiling face.  Leigha has a vast knowledge in dentistry procedures and dental billing.  She enjoys working with patients to not only help them understand their treatment needs, but also help them to save as much money as possible in achieving those needs.
Outside of work, Leigha likes spending time with her wonderful Husband and their 2 cats.  They enjoy snowmobiling, camping, hiking, and really anything that involves the outdoors.
Jan R — Office Manager
Janice has been in the dental field for over 20 years. She absolutely loves what she does and couldn't imagine herself being anywhere else but at the Art of Dentistry. If you ask her what her favorite part is about what she does she will say, absolutely, the patients! She loves the rapport that she builds with patients and having that personal connection with them. She prides herself on patient education, trying to make them comfortable with a thorough understanding of every part of their dental care.
Janice has a great thirst for knowledge and gets excited about every new aspect of dentistry that is brought into the Art of Dentistry. She sees no limit to what can be achieved when someone applies themselves, doing something that they love. She is always saying she sees that passion in every single employee at the Art of Dentistry and let's everyone know that it all stems from the passion they see in Dr. Williams every single day!
When she's not at work Janice loves being outdoors spending time with her family and friends or just relaxing watching a movie.
Kerry – Front Desk
Kerry has been incredible addition to the Art of Dentistry since 2010.  She is currently working at the front desk; however, she is also trained and a dental assistant.  Kerry truly cares about the patients, not only from a dental stand point, but on a personal level.  Kerry makes a point to connect with the children of the practice and to make their experience at our office more fun and enjoyable starting from the minute they walk in the door.
Kerry is currently attending Mott Community College to further her dental education, and to fulfill another goal of hers of becoming a dental hygienist.  She has been accepted to the Dental Hygiene program and will begin the summer of 2019.
When Kerry is not at the office or in class, she spends time with her husband Eric and her sons Eric and Jordan.  They often ride four wheelers and go camping.  You can also find them at the water park at every opportunity.
---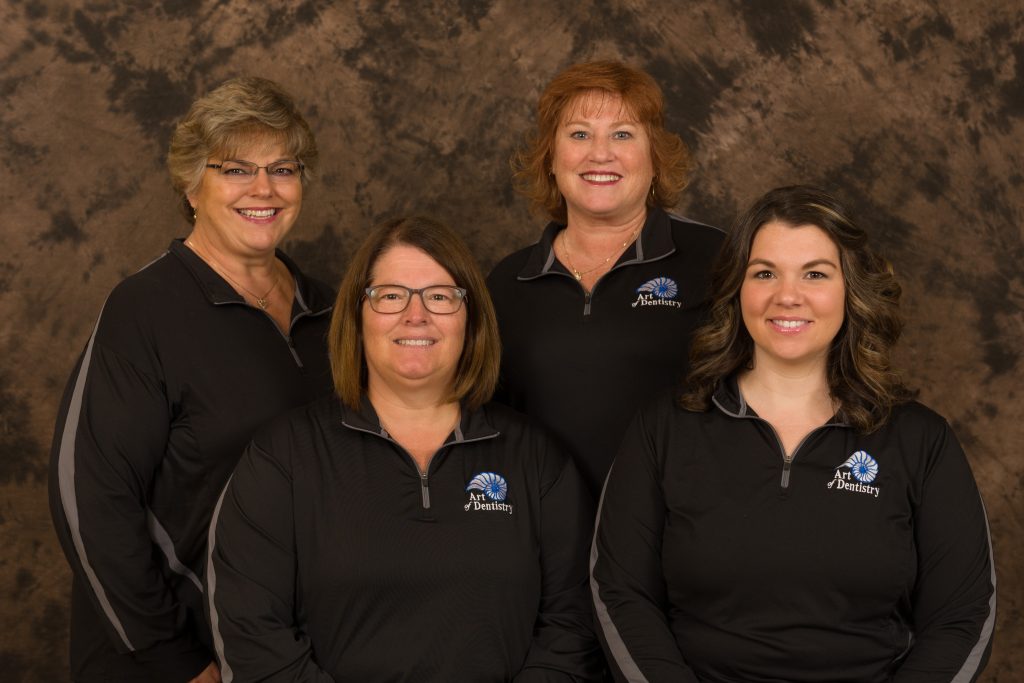 Linda – Registered Dental Hygienist
Linda brings many years of skill as one of our dental hygienists and has faithfully served our practice for 36 years. Our patients remember her and love her, and she is able to relate to the patients' needs and goals. In all things, Linda strives to be gentle and caring. She enjoys being part of a very knowledgeable and kind staff and hopes all of our patients will feel welcome when they visit. She also enjoys that we can be a bit crazy and have a good time when appropriate.
Linda has been married to her husband, Bill, for 38 years and has two children, Christopher and Megan, and two grandchildren, Ayden and Madison. In her free time, she enjoy s camping, bicycle riding, and quietly watching her family play softball.
Mary – Registered Dental Hygienist
Mary has been with us for 27 years and loves meeting with all of our patients. She always treats them with a smile and enjoys getting to know each one and providing them with great dental care. Mary is supported by her husband, Kevin, and her three daughters and one stepson.
She loves anything that has to do with the outdoors and reading. Mary looks forward to helping you and your family achieve optimal oral health!
Jan – Registered Dental Hygienist
Jan works hard to make all areas of our practice work smoothly. She has been with our office for 39 years and brings great skill and compassion to our patients, whom she considers family. Jan attended Mott Community College and the University of Michigan in Flint. She continues to take classes to stay up to date with the latest techniques.
Jan loves spending time with her husband, two daughters, and dog. She also likes camping and biking.
Amanda – Registered Dental Hygienist
Amanda has been with our practice for just over a year now, and has been a wonderful addition to our team! She has quickly built her own "following" of patients that request to see her every time they are in. She is very gentle, kind, and informative with the patients while providing them with the best dental care possible.
Amanda attended Mott Community College and is always eager to continue her education with classes and seminars detailing the latest dental technology and procedures available.
She devotes her time to her husband, Michael, and her son, also Michael. Amanda is very excited for the arrival of her baby daughter any day now, as well! She enjoys being outdoors whenever possible and loves to camp!
---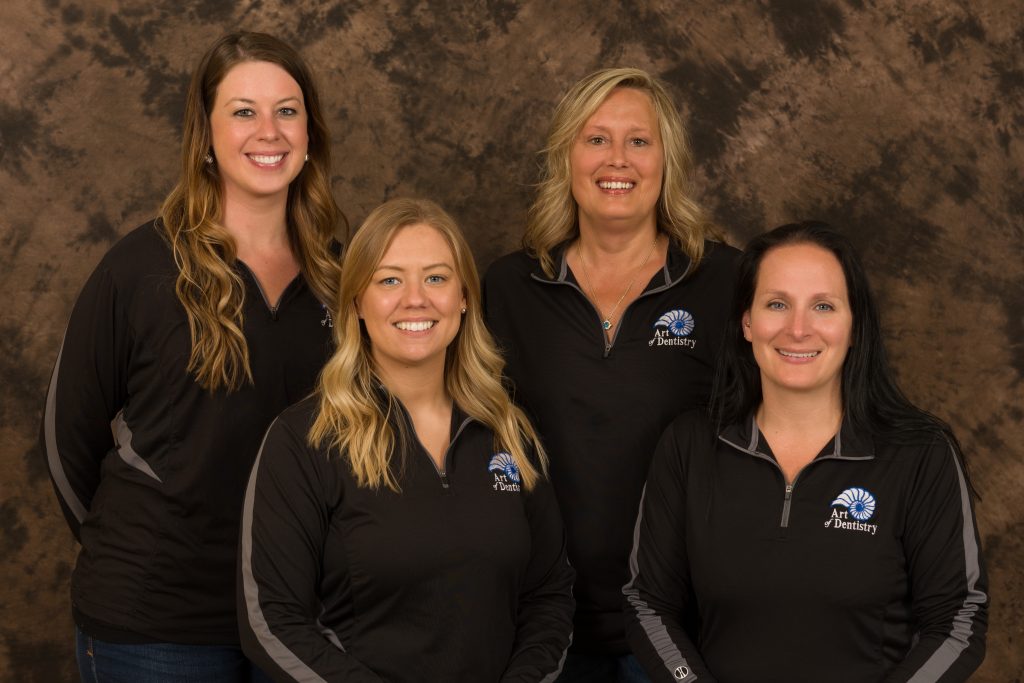 Danielle – Dental Assistant
Danielle completed her dental assisting training at Mott Community college and is excited to further her dental education as she continues to attain her degree as a Registered Dental Assistant.  Danielle has found her forever home at the Art of Dentistry.
While providing patients with excellent dental care, Danielle makes sure that patients feel comfortable and knowledgeable about their treatment and dental procedures.  Danielle loves meeting new patients and seeing them leave with a smile.
Danielle enjoys spending time with her husband and her two daughters by taking family trips to Tawas and going to the beach.
Kristie – Dental Assistant
Kristie completed dental assisting classes in Kalamazoo before moving home to be closer to her family.  Kristie finds it rewarding to help patients feel better about their dental care by providing a calm atmosphere and getting to know them on a more personal level.  She enjoys working with Dr. Williams and is very happy to say she has found her forever work family.  Kristie is working on furthering her education as she strives to become a registered dental assistant.  When she is not at work, Kriste enjoys spending time with her family and playing outside with her son Kash.
Kelly – Dental Assistant
Kelly has worked for the Art of Dentistry for over 20 years.  She understands all aspects of dentistry and is constantly continuing to grow with classes and new technology.  Kelly enjoys swimming, tubing, hiking and sitting by bon fire with her husband, children and grandchildren.
Dawn – Registered Dental Assistant
Dawn is a Registered Dental Assistant and has worked in the dental field for over 20 years.  Along with having her RDA, Dawn also has earned numerous national certificates, with more to be added shortly.  Dawn takes many continuing education courses yearly in order to give her patients the best and utmost care that they deserve.  Dawn loves to help patients achieve their dental needs, from small things to life changing treatments.
In here spare time, Dawn spends time with her family.  She enjoys spending time outdoors and doing home projects.